LOCATION & MAP
WELCOME TO BANGKOK
THE BEST LOCATION
Located in the heart of downtown Bangkok, The Twin Towers Hotel Bangkok is just 10 minute away from the convenience of the BTS SkyTrain National Stadium station and Hua Lampong Railway Station (MRT station). Guests are in walking distance to some of the city's best shopping malls, including MBK, Siam Paragon and Siam Discovery. It is one of the hotels with the best communications to Bangkok's airport and business areas of the capital.
OUR TOP PICKS IN THE CITY
Suvarnabhumi international Airport (35km.)
Don Mueang Airport (30km.)
Hua Lampong Railway Station / MTR Station (3km.)
National Stadium/BTS Station (3km.)
MBK Shopping Center (3km.)
Siam Paragon (3km.)
Jim Thomson's House (2.5km.)
Grand Palace and Temple (6km.)
Marble Temple (4.5km.)
Wat Trimitr-Golden Budda (3km.)
Central World Plaza (6km.)
Amarin Plaza (6km.)
Gaysorn Plaza (6km.)
Platinum Shopping Mall (5km.)
China Town (3km.)
Chatuchak Weeked Market (12km.)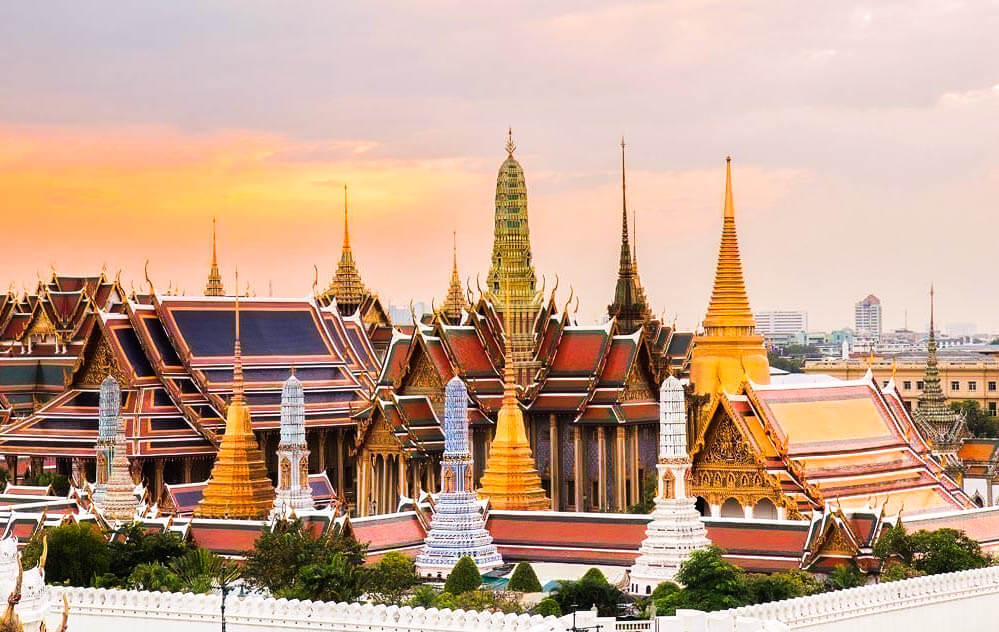 "The Grand Palace"
---
Located at the heart of Bangkok, Thailand, the Grand Palace was a former residence for King Rama I to King Rama V of the Rattanakosin Kingdom. It is now the location of several state offices such as the Bureau of the Royal Household, Office of His Majesty's Principal Private Secretary, and the Office of the Royal Institute. The Middle Court starts from Phiman Chai Si Gate to Sanam Ratchakit Gate. The area is where significant royal ceremonies are held such as the Royal Coronation and the Royal Ceremony of Coronation Day. The area no longer served as a residence nowadays.

Open from: 8:30 AM - 3:30 PM Open all day: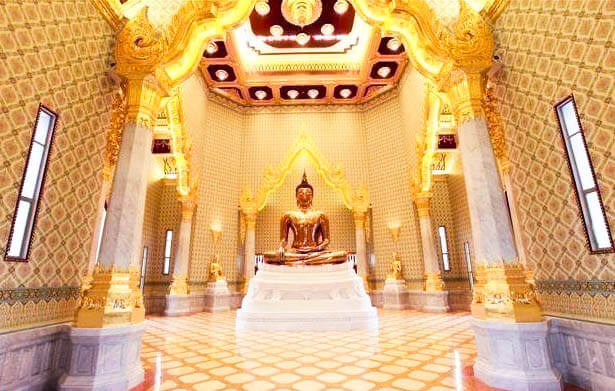 "Wat Traimit"
---
Wat Traimit has the largest gold Buddha in the world. The revered statue, seated on an altar and surrounded by traditional Thai golden arches, is breathtaking and is a regular pilgrimage for Buddhists and inquisitive tourists. Located close to Hua Lampong MRT Station, it is a great stop on your way to – or from – the subway station. The view from the top of the Wat Traimit offers a sight of the ornate Chinatown Gate nearby and receives a refreshing breeze which blows through the open doors of the temple meaning visitors can enjoy marveling at the dimensions of the Buddha statue without perspiring from the heat.
Opening Hours: 09:00 - 17:00
Location: Traimit Road (west of Hua Lampong Station), at the very beginning of Chinatown.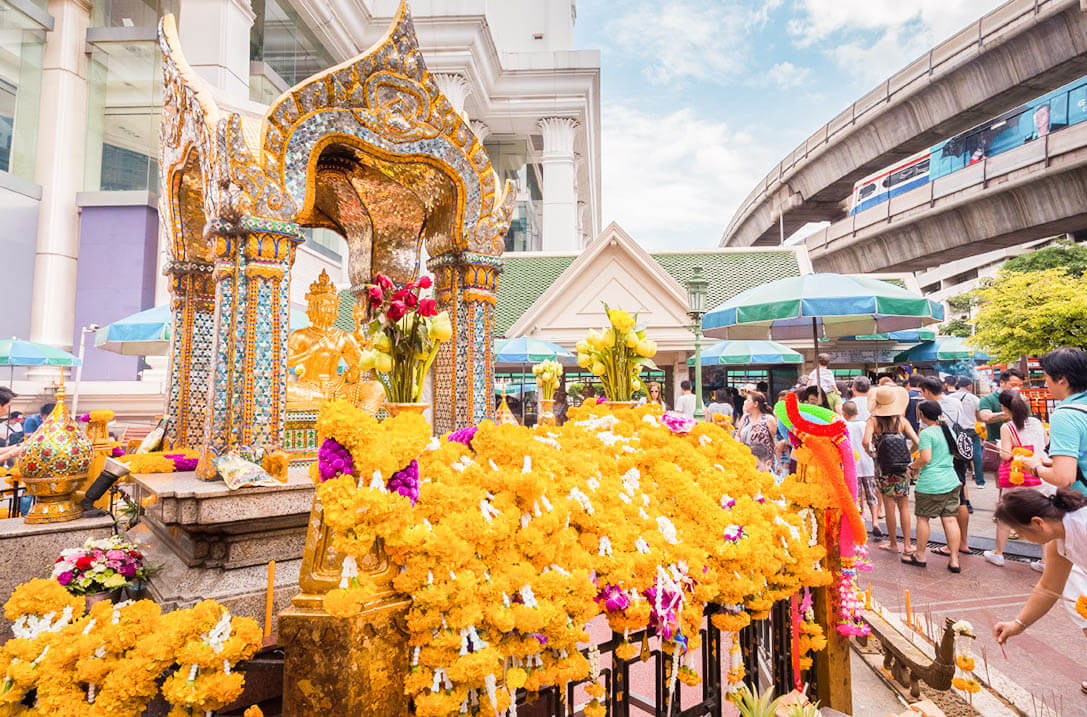 "The four-faced Buddha"
---
The four faced Buddha at the Erawan Shrine, Bangkok has four faces but it isn't Buddha. It is actually Lord Brahma who is one of the Trinity of Hindu Gods.The Thais call Brahma, Than Tao Maha Prom or Phra Phrom.
Four Face Buddha also known as phra phom god at Erawan Shrine, is one of the most popular tourist attraction in Bangkok. Erawan Shrine in Bangkok is Brahman, not strictly Buddhist. And yet, this famous shrine attracts more visitors than many of the city's temples.
Opening Hours: 06:00 - 24:00
Location: In front of Grand Hyatt Erawan Hotel, corner of Ploenchit and Ratchadamri Road
BTS: Chidlom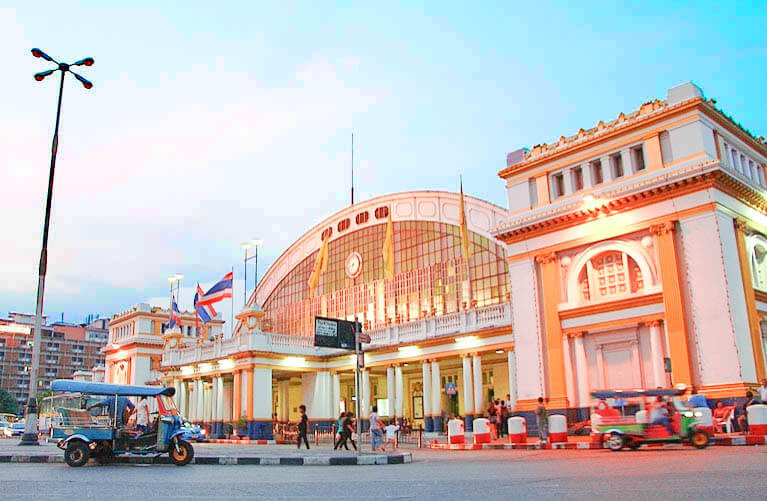 "Hua Lamphong Railway Station "
---
This railway station is the main train station in Bangkok. Located in the Pathum Wan district in the city center. The railway station was designed by the Italian architect Mario Tamagno. The station is connected by the Metropolitan Rapid Transit subway system.There are train trips that cover northern, eastern, northeastern, and southern Thailand. Outside the station, you'll find plenty of taxis waiting to take you anywhere in Bangkok.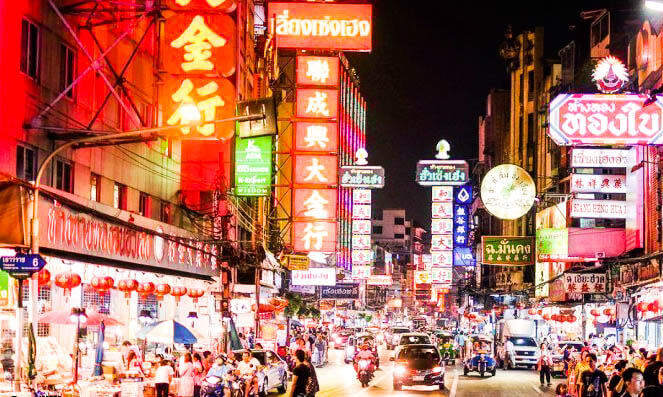 "China Town"
---
Yaowarat Road is the largest gold trading market in Thailand and it is also a popular destination for people who love food. In daytime Yaowarat Road is a slew of gold shops, Chinese herb shop, fruit stalls, and Chinese restaurants, but by the evening both sides of the street are lined with incredible food stalls full of mouthwatering Chinese food and seafood. That is what Thailand Chinatown Night Market is famous for Yaowarat Road is a road in Bangkok. The distance of the entire length of the route is approximately 1,510 meters (1.510 kilometers). It has been known and named as "Dragon Road". The dragon's belly is at the old Chinatown market area and ends the dragon tail at the end of the road. Formerly known as "Yuparat Road" At Yaowarat Road, a large number of Chinese and Thai ethnic Chinese communities Is classified as a commercial area, banking finance, gold shops, restaurants, restaurants, shops, etc. as well as one of the major tourist attractions in Bangkok. "Bangkok Chinatown" from foreign tourists and considered to be Chinatown or one of the largest Chinese communities in the world.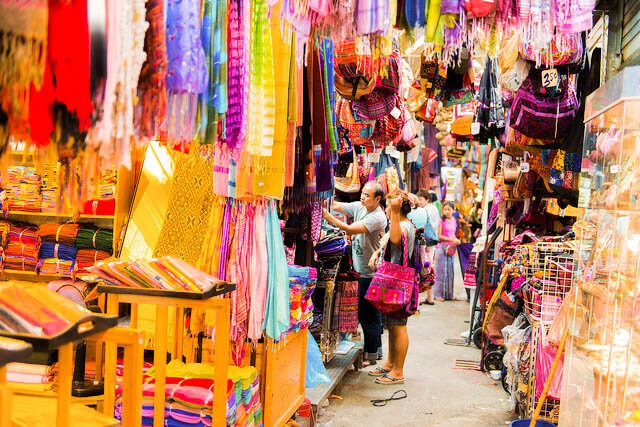 "Chatuchak Market"
---
Chatuchak Market, It really is a sight to behold, and it's arguably the best place in the whole city to buy souvenirs and all manner of other things many different kinds of goods, including plants, antiques, consumer electronics, cosmetics, pets, food and drinks, fresh and dry food, ceramics, furniture and home accessories, clothing, and books.
Once only popular among wholesalers and traders, Chatuchak Weekend Market has reached a landmark status as a mustvisit place for tourists. if you have one weekend in Bangkok, squeeze in a day trip to Chatuchak Weekend Market and you will not be disappointed.
Getting to Bangkok's Chatuchak Market is quite easy on public transportation. The subway and Skytrain options are best, and both have stations very close to the market.
Wednesday and Thursday – Plants and Flowers only – 6:00 am to 6:00 pm
Friday – Wholesale Day – 6:00 am to 6:00 pm
Saturday and Sunday – Main market days, everything available – 6:00 am to 6:00 pm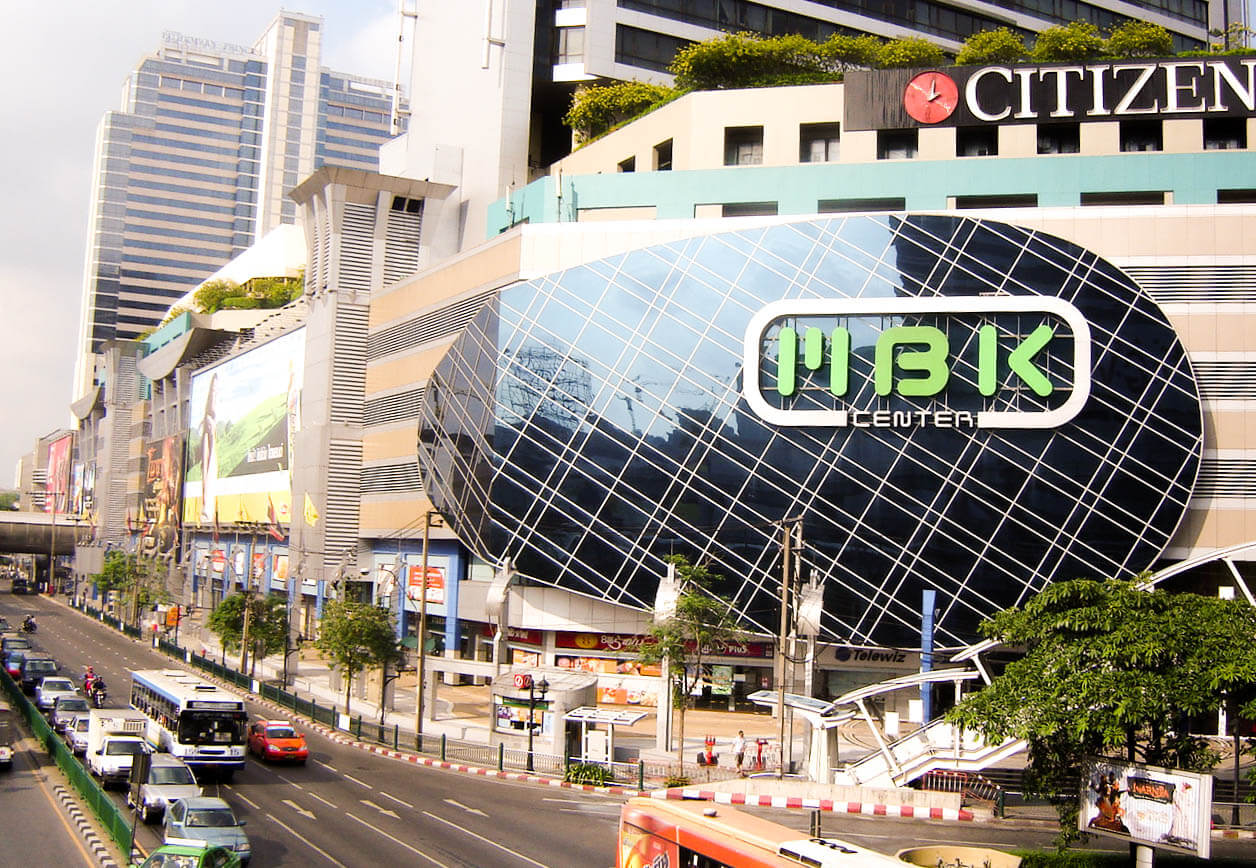 "MBK Shopping Center"
---
MBK Center is probably Bangkok's most legendary shopping mall, popular with both tourists and locals, and busy with shoppers every day. There are eight floors packed with 2,000 shops that sell everything from clothing, fashion accessories, handbags, leather products and luggage to furniture, mobile phones, electric appliances, cameras etc. It offers a mindboggling range of goods spread over and is considerably less expensive. MBK Center is particularly easy to reach thanks to a direct walkway linking to National Stadium BTS Skytrain Station. Almost Taxi driver knows this most famous of shopping malls in Bangkok too, so you can hail a cab from anywhere.
Opening Hours: 10:00 - 22:00
Location: Pathumwan Intersection, diagonally opposite Siam Discovery Centre
BTS: National Stadium
"Siam Paragon"
---
Siam Paragon is an immensely popular shopping mall housing a host of international high-end fashion brands, Southeast Asia's largest aquarium, a 16-screen Cineplex, and a comprehensive selection of world cuisine. Located prominently in front of Siam BTS Skytrain station - the interchange of the two BTS lines - it is considered by many to be the centre of Bangkok. However, this mall provides mainly luxury items for well-heeled Thais and international visitors.
Opening Hours: 10:00 - 22:00
BTS: Siam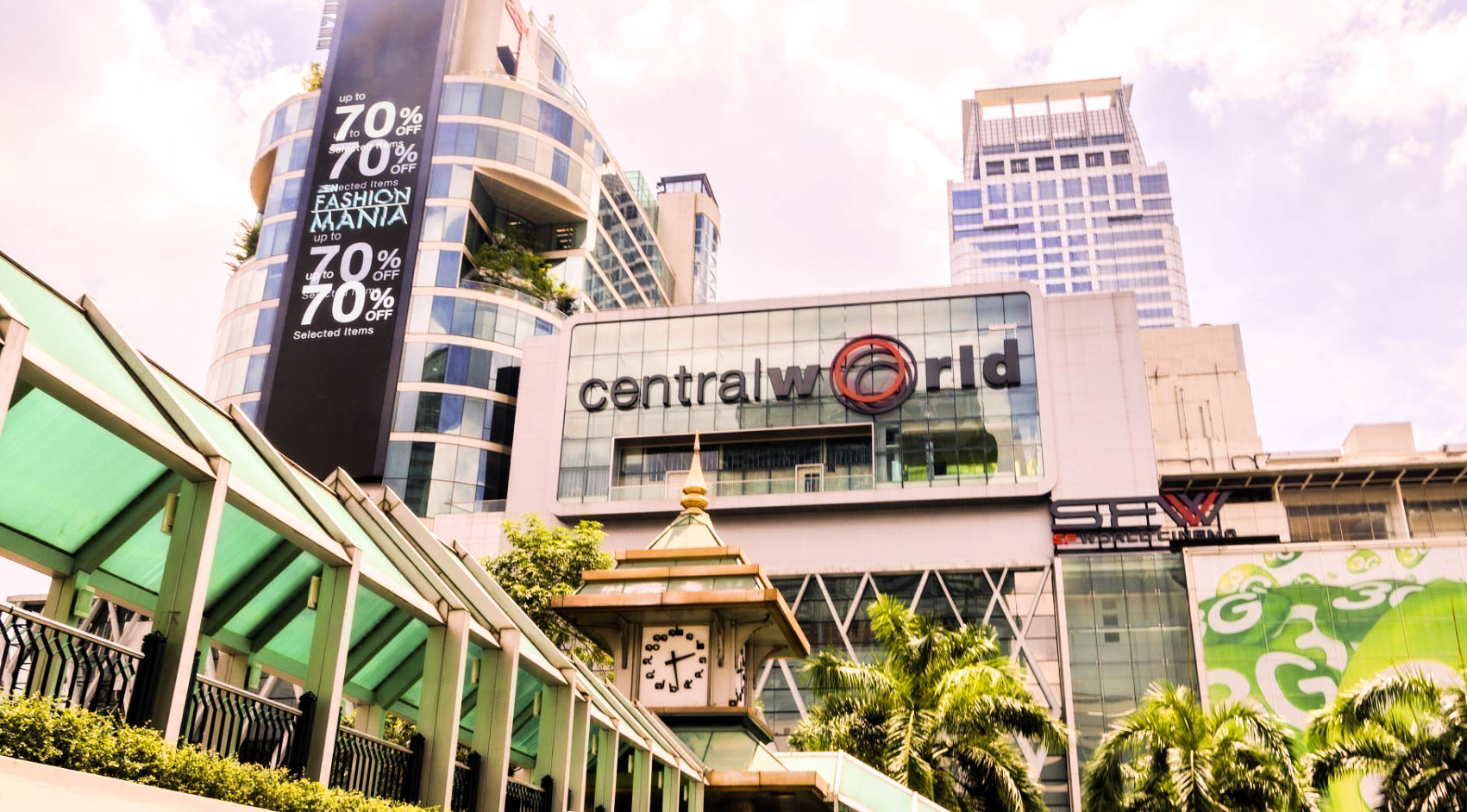 "CentralWorld"
---
CentralWorld one of the most exciting shopping experiences in Bangkok. It has everything from brand name clothing boutiques, bookshops and designer furniture to imported groceries, a lineup of banks, beauty salons, gourmet eateries with so many tantalising options to explore, you could easily spend half a day here without realising it. It will come as no surprise to anyone who has experienced the incredible size of CentralWorld that this is, in fact, the largest mall in Thailand and among the largest in the world.
The location is slap-bang in the heart of the Chidlom with direct Skytrain (BTS) access and home to the two famous shrines, Erawan Shrine and Trimurti Shrine.
Opening Hours: 10:00 - 22:00
Location: Ratchaprasong Intersection, opposite Gaysorn and Erawan
BTS: Chidlom, Siam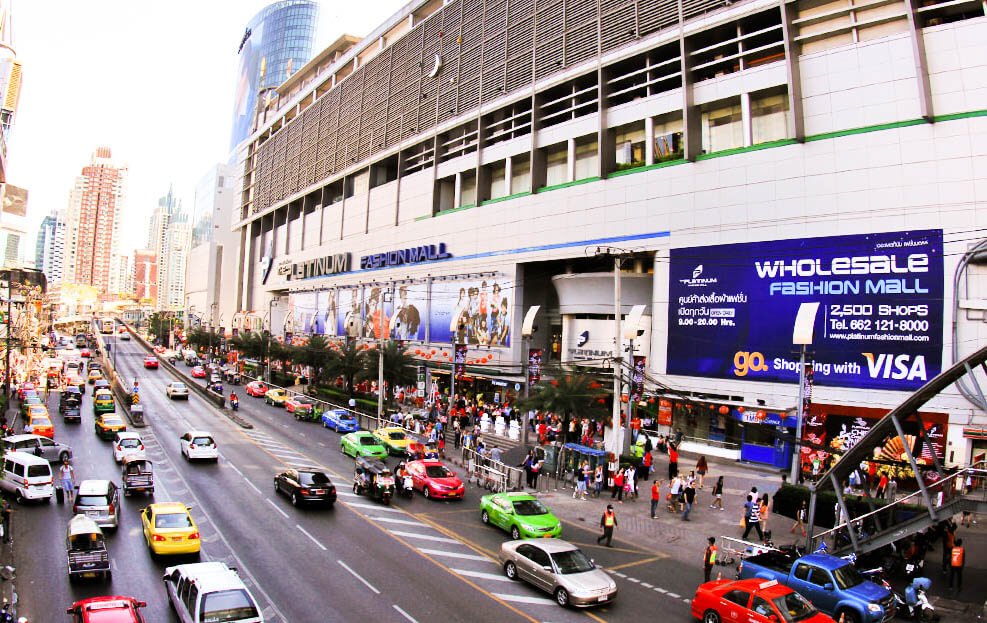 "Platinum Fashion Mall"
---
Platinum Fashion Mall location is smack in the centre of Pratunam, a 10-minute walk from either Ratchathewi or Chidlom BTS Skytrain, so it is easily accessible when compared to other clothing bazaars of the same scale.Talking about a onestop shopping for reasonably-priced clothes and accessories, Platinum Fashion Mall is your best bet. The wholesale shopping mall filled with small outlets, selling mostly women's fashion and accessories.
Opening Hours: 10:00 - 22:00
Location: Petchburi, Ratchathewi (next to Pantip Plaza)
BTS: The nearest Skytrain station is Chidlom (but not really walking distance, you wll need a taxi or tuk yuk)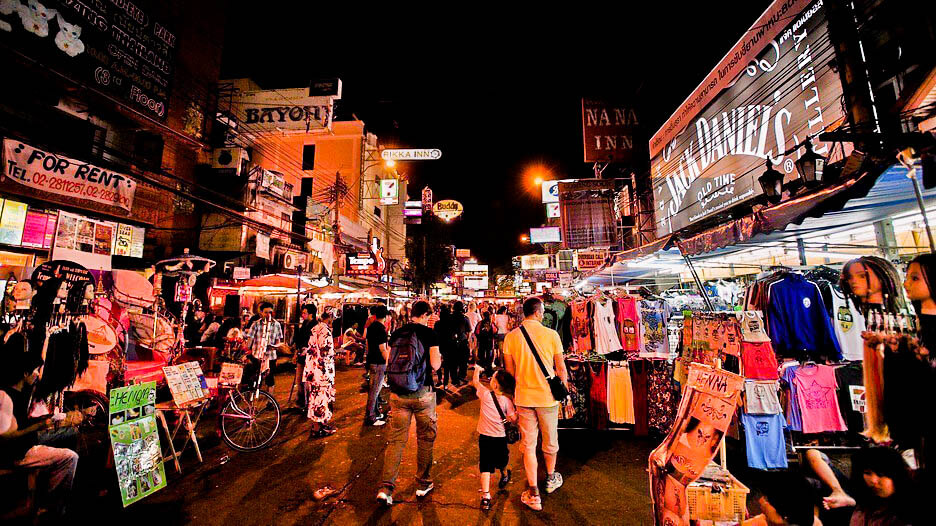 "Khaosan Road"
---
Khaosan Road is a day and night commercial area with many products such as Ready-to-eat food store From French cuisine, Indian food, Italian food and popular Thai dishes like Pad Thai and spring rolls. It is also a popular road to swim on Songkran day that is crowded with foreign tourists from all over the world. And is a place that has been popular with film and music industry both from foreigners and Thai people themselves. Long a haven for foreign backpackers, Khao San Road has gentrified to include a few boutique choices, and is now a colorful and vibrant part of Bangkok, where Thais come to join travelers at some of the best bars and clubs in town.